Ceramic tiles are a common feature in most kitchen floors. They are mainly manufactured from clay and other natural minerals and substances. These tiles are very durable especially after being baked on extreme heat. A common and popular option is glazed ceramic tiles which are durable and water resistant and scratch resistant.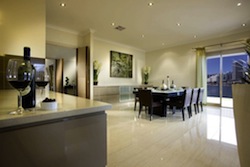 Ceramic tiles were initially hand-made thereby each tile is a unique and individual work of art. They are used either on ceilings, walls, floors, fireplaces and the exterior of buildings. Most ceramic tiles are now machine manufactured.
Clean grout borders usually line these polished and colourful ceramic tiles. They both add mystic and unique ambience to your home. All Tile Cleaning Experts can enhance the grout appearance and restore the ceramic tiles to look new again. We provide fast, efficient and professional service. We guarantee that your ceramic tiles will be colourful, vibrant and have the natural lustre of the floor again.
What is Ceramic Tile?
A ceramic tile is made of clay. It is then moulded, dried and burnt at extreme heat. This heat fuses the tile into a solid and hardened tile. Historically, the human civilization has perfected the art of turning clay into tiles of many shapes and sizes. They are used for decorative and protective purposes. A coloured and powdered glass compound is used to paint the tiles. They are then burnt at extreme heat. This will cause the glass compound to melt on the surface of the tile, thus giving the tile a "glazed" look. The glaze acts as a protective layer against moisture and staining. Such tiles work well on floors and wall surfaces. Ceramic tiles have long lasting durability.
 Cleaning of Ceramic Tiles
Many people desire ceramic tiles as part of their home due to its beauty. Unfortunately, the practicality of cleaning such tiles is tedious that many decided against it. As cleaning the ceramic tiles and the grouts is extremely difficult. There are specific cleaning techniques needed to clean ceramic tiles and these techniques are actually easy to manage. At present, latest technological advancement has allowed for easy cleaning of ceramic tiles. Utilizing state of the art equipment will definitely ease your work. The tiles you pick may vary in sizes. The y are manufactured from clay and then burnt in extreme heat to provide durability. Most tiles are either glazed or otherwise. The glazed tiles tend to be easier to maintain as the unglazed ones are porous and easily traps grime, thereby making it difficult to clean.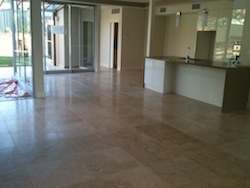 If you decide on unglazed ceramic tiles, it is vital to seal them for protection. Grouts for ceramic tiles are either silicone based or sand and cement based. It is the silicone based grouts that are easy to clean. Constant care on the grouts will ease your burden of cleaning the tiles in the future.
Cleaning the ceramic tile surface is usually not too difficult but cleaning the grout lines is generally the most difficult aspect of cleaning ceramic tiles. Ceramic tile is a durable and decorative surface covering. The grout between tiles, however, can be a dirt and mildew magnet. Cleaning ceramic tile grout is not particularly difficult, but it can be tedious and require a bit of elbow grease. There are a number of commercial and home cleaners that make the job easier, but keep in mind that each method has its positives and negatives.
Cleaning ceramic tile can be a huge pain for anyone who isn't using the right tools. Don't waste unnecessary time cleaning ceramic tile by hand. With our cleaning machines and equipment it has never been easier to achieve the sparkling clean that you want and others will notice.
"All Tile Cleaning will restore your ceramic tile and grout to its former lustre and provide a protective coat for a long, long time."
Should Ceramic Tiles be sealed?
Many clients have asked us to recommend a good sealer for their ceramic flooring. Our reply is that ceramic tiles do not need any form of sealing.
Maintenance of Ceramic Tiles
Utilizing the right cleaning agents and methods will definitely ease cleaning your ceramic tiles. However, utilizing the wrong products may destroy your ceramic flooring and the grout as well.
There are 4 basic requirements when cleaning any surfaces which in short is called TACT and they are:
The temperature should be high to effectively clean the tiles. 
It is important to agitate the tile surface for effective cleaning.
The right chemicals should only be used.
The cleaning solutions need a longer duration to enable a good wash off the grime and stains giving you an excellent clean result.
Ceramic Tile Maintenance tip:
Get a good mop
Clean your ceramic flooring daily
Carpets and mats can protect the tiles from dirt and grime
Place carpets or mats in frequently used places
These carpets and mats should be cleaning weekly.
Proper ventilation is needed for shower areas and bath tubs
Do not have stagnant water anywhere near the tiles, they collect moss
All shower corners, curbs and sills need to be caulked with silicone moss resistant caulk.
Mop ceramic tiles at least twice a week
Mix a capful of dishwashing liquid to a gallon of hot water
Mop dry any excess water
Dry the tiles
Buff the tiles with a towel reduces spotting
Getting White Grout Clean
White or light coloured grouts are exposed to stains, try to bleach the grout. A bleach based cleaning solution when added at 50/50 bleach solution and water will clean stubborn grout stains. When using these cleaning solutions need proper ventilation to avoid fumes. It is vital to wear gloves and old clothing. It is very unwise to mix bleached base cleaning solutions as toxic fumes are usually used for such mixtures.
Alternatives for mild Grout Cleaning
Hydrogen peroxide is an excellent alternative grout cleaning solution. It is an effective cleaning agent that is odourless. It is also the perfect cleaning solution for people with allergies and sensitivities to chemicals. You need to apply the hydrogen peroxide to the grout and leave it for a few minutes. Then brush the treated area and rinse with a damp cloth for maximum effect.